Hi Everyone
It has been a busy Monday and so I am pleased to have a few minutes, before I go off and get dinner ready, to post this page.
I combined 2 challenges, the CSI challenge and the Scrap Friends sketch challenge.
Here they are.
I really liked the sketch and loved the new, fresh and modern look. So my layout hopefully does it justice.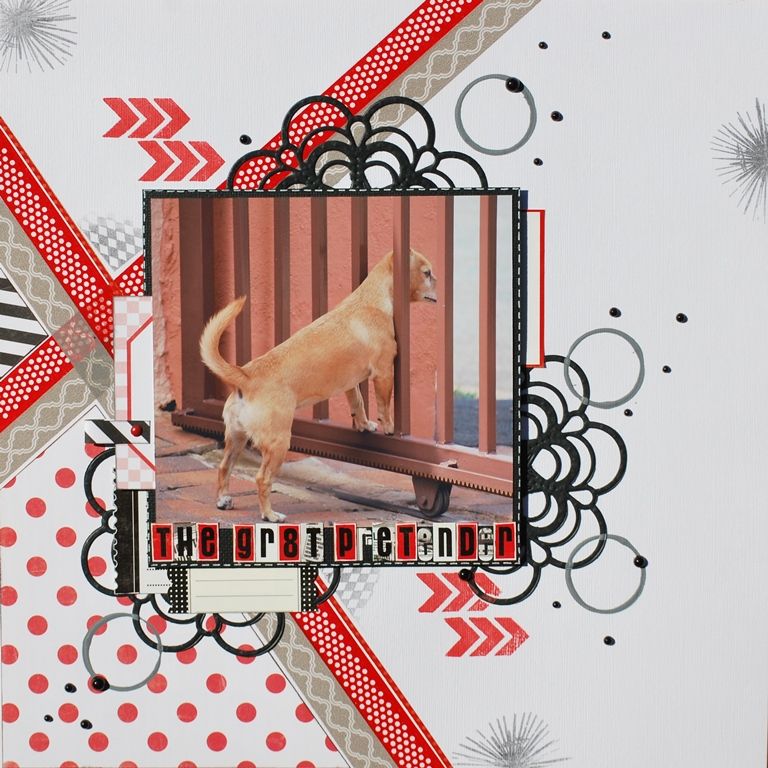 Evidence: Check/plaid / dog accent on my journalling tag
Testimony: Documenting my doggie
This layout is about my dog who believes she is bigger and stronger than any sized dog! She is certainly the Great Pretender.
My journalling tag under the photo says this:
This is Rosie, eye-ing the boerbul across the road. She thinks she is able to take it on, and often finds herself at it's gate. She is able to squeeze herself through the bars and make a dash for the boerbul. She is all bark and hackles raised! Such a little protector and such a little aggressor!
For the strips I used washi tape and the papers used are Echo Park. I did some stamping of the checked patterns and the splodges, but my rings are painted. The stickers used are also Echo Park, as well as the alpha's.
I really love how this page came together and very pleased with this modern and fresh look.
I hope you start to the week has been a good one!
Have a super evening!
Denise x