Hi Everyone
2 posts in one day!!! Yeee haaa!!!
I was so excited and thrilled to be asked by Debbi to be a Special Investigator at
CSI
for the month of February! It is really such an honour and I jumped at the chance to be a part of this journey for this coming month. So you can imagine that for the last month, I have been scrapping up a storm in the background! ;-)
Here is the Case File.
I created this page to celebrate a special, family event 2 years ago.
Evidence: Hearts, Flowers, Leaves
Testimony: I am documenting a love story and hearts added to my journalling spot.
This layout is about 2 people finding each other, after both getting divorced and not being spring chickens anymore. My father in law got married again on 19 Feb 2011 and we were so pleased that he found happiness again and is truly loved and cared for.
The journalling spot is the words that my new Mother in Law read to him and is very special to them...and since this layout is for them, I wanted to use her words: Across the years, I will walk with you, In deep green forests, On shores of sand; And when our time on earth is through, In heaven too You will have my hand!
Let's have a closer look.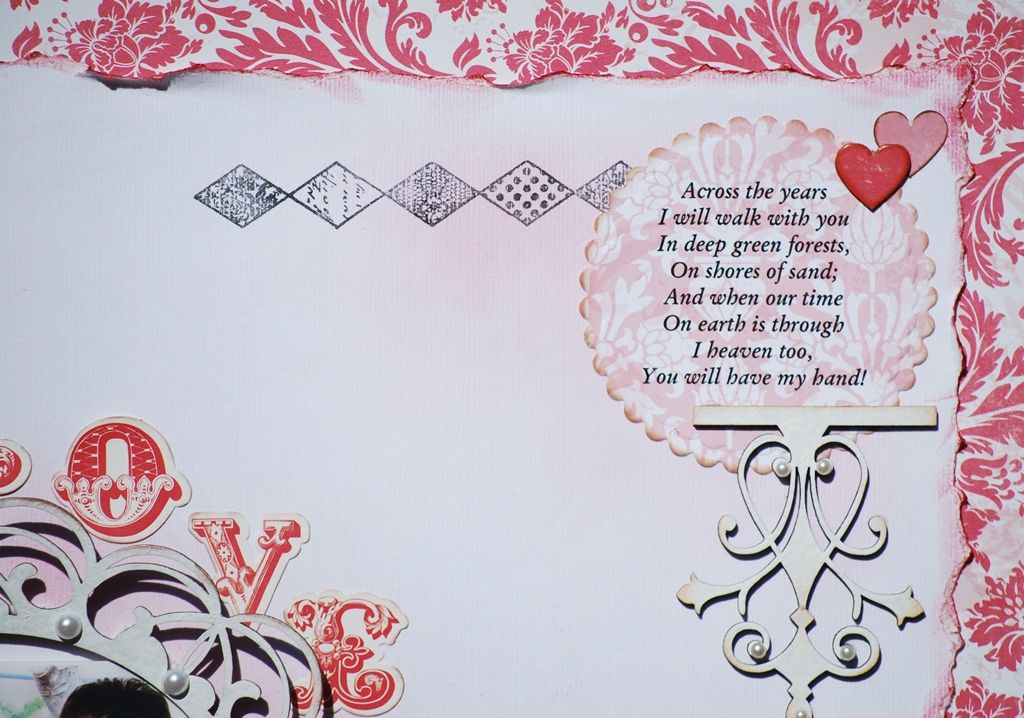 I will make a list of the materials used, as it is a mix and match of note! ;-)
Echo Park Victoria Gardens Papers and stickers
Design Work circle chipboard and vine chipboard
Petaloo Flowers
Making Memories chipboard hearts
Basic Grey flower stamp
Prima background stamp
Lace and pearls
Well thanks again, for your visits and comments!
I truly appreciate them all!
Have a scrappy afternoon!
Denise x